Our Story
SALT. Fine Jewelry is your source for daily signature pieces you'll never want to take off. Known for our iconic stacking rings, personalized charms, and more…SALT. Fine Jewelry adds edge to your wardrobe and lets you embrace your inner boldness. Our diamonds are ethically sourced and made to order in Toronto, Los Angeles or Italy. 
Founded by Sally Brooks and Tara Turnbull in 2015, the name SALT. came from the blending of both of our names…Sally & Tara. However, what we really loved about the name SALT. is what it represents. SALT is essential for life, it purifies and it preserves. In many cultures, it has often been symbolic in keeping evil and negativity away. Both salt and diamonds are minerals which have been highly valued since the beginning oftimes. After meeting over a cup of coffee, we instantly knew this was a match made in jewelry heaven.
Welcome to our collection.

Tara & Sally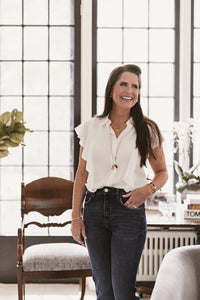 Sally
Sally was born and raised in Los Angeles, California. As a young child, Sally and her sister grew up immersed in the famous L.A. jewelry district. Her father, an expert gold leaf lettering artist, created ornate signage for the jewelry stores in the old art deco buildings. This is where Sally learned about the craft of jewelry making and the art of creating beautiful things out of metal and gemstones. She attended UCLA where she studied microbiology and genetics and now, Sally reisides in Toronto with her husband and three young children, but she will always be an L.A. beach girl!
Tara
Tara was born and raised in Toronto. She studied design at the New York School of Interior Design in NYC. Tara has always had a passion for all things beautiful. She loved playing in her mother's jewelry box as a child, stacking rings and grouping necklaces. After living in New York and London for 20 years, she returned to Toronto in 2013. Tara and her husband are the parents to two sets of twin boys and after too many years of all things boys, it was time to get back to her passion of design. Tara loves seeking out thevery best in quality thus SALT. has all of their pieces made in Toronto, Los Angeles and Italy. We hope you love wearing it as much as we love creating it.